Though many new laws have been made for the betterment of the LBGTQ+ community, a lot of folks are still having trouble being their true selves. The talented trans star Kizzy Edgell themself had to go through different troubles in the past.
They started their acting career in 2022 by portraying the role of Darcy Olsen in the hit Netflix series Heartstopper.
Was Thrilled to Be a Part of the Show
Having joined the show as a newcomer in 2022, Kizzy Edgell was excited about the series. They added that it would bring life to the new on-screen stories of queer and trans.
As per Kizzy, they are trans and non-binary, unlike their character Darcy. They also expressed their happiness in being part of the show.
They further stated that they felt really lucky as they could talk and speak about it with people and expressed how the representation of lesbian and queer people gets missed out on LGBTQ+ shows.
Kizzy was paired alongside Corinna Brown, who portrayed the role of Tara Jones. The on-screen pair was the Higgs' resident lesbian duo. According to Corinna, the show would be relevant to all age groups and everyone, and it wouldn't matter if they were young, old, queer, or not queer.
In an interview with the Gay Times, Kizzy revealed that the show was a good way to let the kids know about the general notion of being queer. Furthermore, they added,
"It's not like there's a video that you can put on and show kids to teach them how to be towards queer people, or if they are queer, to figure it out. There's not many kid-friendly ways to do that so I think it's helpful."
Interesting Read: What is Fat Perez's Real Name?
Started Their Trans Journey in 2022
Kizzy Edgell ended the year 2022 with an emotional Instagram post. They posted a lovely photo of theirs with a very thoughtful caption.
They thanked 2022 for changing their life in unexpected ways. The Heartstopper star also did many adventitious things, including leaving university to pursue a career in acting, moving in with their best friend, and, more importantly, starting their trans journey.
They concluded the post by expressing their excitement for 2023 and eagerness to see what the world has for them. And looking at Kizzy's new Instagram updates, it is assured that they are enjoying their life and 2023 has been treating them well.
However, it hasn't always been the sunshine and rainbows for Kizzy. In The Permanent Rain Press Interview, they spoke about their coming out story. They said that they came out in a group chat saying, "I like girls."
Much to their surprise, only one girl replied, "okay," whilst the rest left the group chat. So, Kizzy also projected that experience on their character Darcy.
Nevertheless, Kizzy is in a good place now. They have also now got tons of supportive friends in their life.
Also Read: Melissa Navia: Revealed Her Gender And Grieved On The Loss Of Her Partner
Lovely Bond With The Cast Members
As stated above, many of Kizzy's friends left the group chat when they came out and revealed their sexual orientation. All in all, they are doing good now and have made many friends.
Not just in the show, but Kizzy is also very close to their friend Corinna Brown. The duo often hangs out together, which is imminent from their social media posts.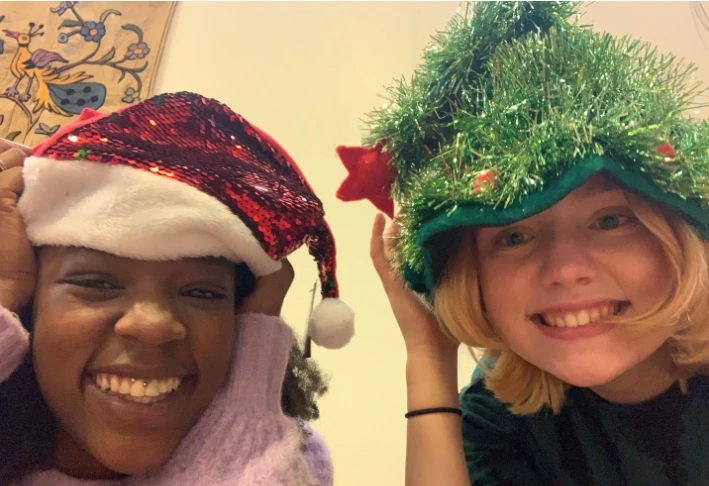 During this year's Valentine's Day, Kizzy was asked to be a valentine by Tobie Donovan, one of the stars of Heartstopper.
Furthermore, in July 2022, Kizzy, alongside their castmates, walked in the event of Pride In London. After the completion of the event, they thanked them for being in Trafalgar Square, stating they loved them.
In the end, they concluded the post by saying it was the proudest moment they had ever been, and they felt like they were their original self without a tinge of shame.